File:1999-april09.jpg
ADVERTISEMENT
From Diablo Wiki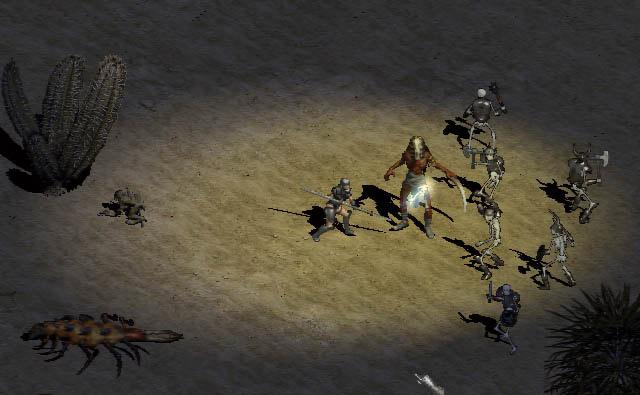 No higher resolution available.
Act Two, Desert Wilderness. The Amazon attacking a "Reaper" with her lightning javelin skill enhancing the damage of her regular spear attack. The skeletons are certainly within range of the Amazon, but several of them don't seem to quite have the idea that they are supposed to attack her. The AI in Diablo II is far from perfected as of this build. The component system is working, however, as you can see from the skeletons kitted out in armour and boots, with a variety of weapons. There is a large Sand Maggot across the way, and near the skeleton a creature of some uncertainty. It doesn't appear to be attacking the Amazon, so perhaps it's not a monster. However half the skeletons and the Sand Maggot aren't attacking her either, so that's nothing to go by. Lord of the Rings fans will notice the similarity to the character Smoegal, same flat, elongated hands and feet walking on all fours. Nothing is known about him, though it appears he's making a dash for cover behind the cactus where his skin colouring will afford him suitable camouflage. -- 3dfx enhanced shot, 11/98.
File history
Click on a date/time to view the file as it appeared at that time.
You cannot overwrite this file.
File usage
The following file is a duplicate of this file (more details):
There are no pages that link to this file.