File:2000-feb16-a3.jpg
ADVERTISEMENT
From Diablo Wiki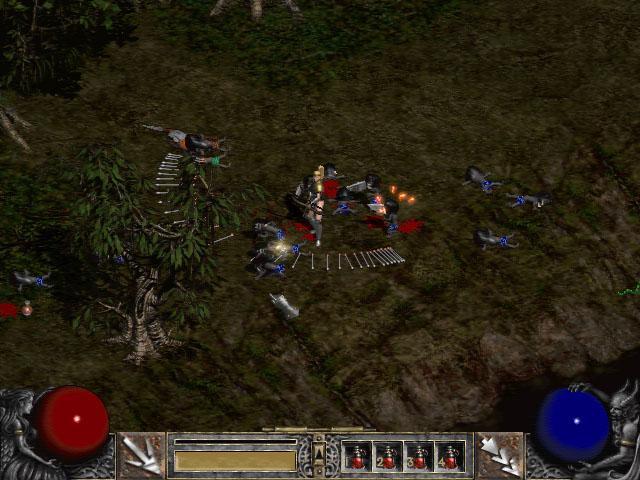 No higher resolution available.
Act Three, jungle wilderness. The Amazon here, showing off an amazingly high level of Multi-shot Arrow. This is just one shot of the skill, and there look to be 36 or more arrows here. Must be cheat code in testing, to get such a level. ;) There are a number of shots in the front of her that have vanished from hitting the blue Fetish. Three at least are dying right in front of her. The small flash of light just in front of her is an indication that her Critical Strike skill was activated. It is passive and adds a % chance of any attack doing double damage. The dead monsters are Fetish, and you can see two colors of them here, with a few Blue ones still alive behind her. There is a Shaman to the top left, just at the edge of the arrows, his mask is on the ground and he has an orange skirt on, and a big spear lying next to him. One of the live Fetish has some sort of orange glow over its head, and this was seen on Fetish in another shot, so apparently this is some sort of property they can control. It looks like a curse, Amplify Damage, but as there isn't any sign of a Necromancer here, we aren't sure what causes this effect. Note the healing potion to the far left, and a cute green snake to the far right. Ambient life. -- 3D-enhanced, January 2000
File history
Click on a date/time to view the file as it appeared at that time.
You cannot overwrite this file.
File usage
There are no pages that link to this file.