File:Fotd-1999-april05.jpg
ADVERTISEMENT
From Diablo Wiki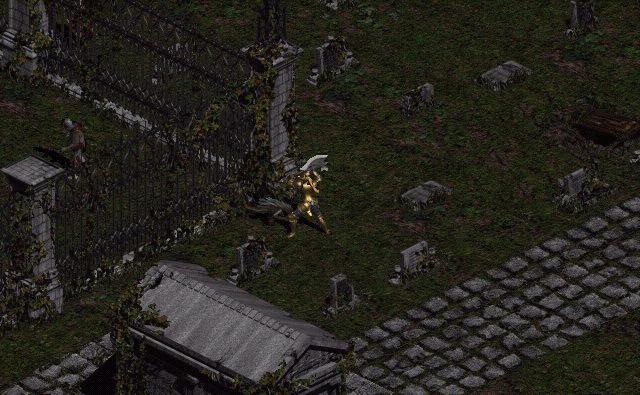 No higher resolution available.
Original shot caption:
Act One, Cemetery. The Amazon wielding a very impressive axe, chopping away at some nasty little ankle-biter. Small it might be, but it doesn't look like much more than a glorified Bone Gnasher, but with those spikes on it's back you wouldn't want to try to kill it with your bare hands. Top left behind the fence you can just make out, what looks like, a corrupted rogue on her way to join in. There is a very fat zombie lurching around inside the fence, and in a nice touch, a grave to the right side of the screen, just above the path, looks to have been recently dug up and the coffin smashed open. -- Pre 3dfx build, 4/98.
An early view of the Amazon in the Burial Grounds. Nice axe there, nothing like that is seen in the final game graphics. Obviously in the caption we were confused about who was inside and who was outside the graveyard fence. And there is a Corrupted Rogue in the very top left corner, behind the fence. Don't see those in the Cemetery now, unless they follow you in from the Cold Plains.
One funny thing on old shots we used to always be sure to call it the "Cemetery" rather than the "Graveyard", since there was another D2 fansite (more of a rantsite, they burned out and closed long before the D2 beta) called "The Graveyard" and we didn't want to give them any seeming publicity while they were spending most of their time ripping us for not being into the community, which of course meant we didn't post plugs to their non-D2 content. You would not believe the petty jealousies and rivalries and bitterness among webmasters back in the very early D2 days. It's similar with Warcraft III now, actually, and will probably always be that way with sites pre-game, when there is not so much content and no game to play, so competition is much more intense. -- December 16, 2001.
File history
Click on a date/time to view the file as it appeared at that time.
You cannot overwrite this file.
File usage
There are no pages that link to this file.