Cave
ADVERTISEMENT
From Diablo Wiki
The Cave found in the Cold Plains and is a cave very similar to the Den of Evil.





Background
[
edit
]
Found in the Cold Plains is an entrance to The Cave. This area closely resembles the Den of Evil as do most of the other sublevels found throughout the first half of act 1. The differences are it's bigger, and it has two levels. The Cave is not linked to the completion of any quest but can be cleared out for an extra boost of experience.

Inside the first level of The Cave contains Coldcrow, a superunique corrupted archer, who can be dangerous for new characters (especially melee) since her cold enchanted arrows wreak havoc for those with low cold resistance and life. Coldcrow in normal difficulty is famous for having the highest chance to drop Gull, the unique dagger popular for its 100% magic find property.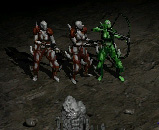 Level Information
[
edit
]
Monster levels are usually always equal to the area level with exception to uniques (mlvl +3) and champions (mlvl +2).
The Fallen and the Fallen Shaman spawn together as one monster variant in this area.
Like the rest of the act 1 cave levels, the layout of level 2 does not change.