Harlequin Crest
ADVERTISEMENT
From Diablo Wiki
Harlequin Crest is an elite Unique Helm with an item level of 69 and a Character Level requirement of 62.
One of the most popular unique helms in the game, the Harlequin Crest (or "SHAKO!") provides huge bonuses to life and mana, as well as +skills, big magic find, and even damage reduction. These overwhelming bonuses are only partially offset by the fact that it's a lime green dunce cap as distinctive as it is ugly, and sure to clash with any other equipment choices.
The head is one of the most vulnerable and important parts of the body, so protective headgear of all sorts have long been a staple of a decent suit of armor. The simplest designs consist chiefly of a tight-fitting leather or metal cap, securely fastened to remain atop one's head. More advanced designs include faceted sides to deflect and absorb attacks, noseguards and gorgets to protect the nose and neck, and even visors that close over the face. A sturdy helm may be one of the best investments an adventurer can make.
In 1.10 of the Expansion the odds of gambling a Unique is 1 in 2000.
Elite Uniques are found only in the Diablo II Expansion, not in Diablo II Classic.
Item Level: Chests and monsters must be at least this level to drop the item. Ilvl is used in gambling, sales and other calculations as well.
v1.09+ Stats
[
edit
]
Image
Name
Properties
Special Properties

Harlequin Crest
Shako
98-141 Defense
12 Durability
50 Str Required
Item Level: 69
Clvl req: 62
+2 to All Skills
+1.5 Life per clvl
+1.5 Mana per clvl
+50% Better chance of getting magical item
Physical Damage Taken Reduced by 10%
+2 to Strength
+2 to Dexterity
+2 to Vitality
+2 to Energy
Prior Stats
[
edit
]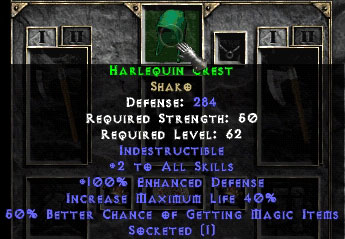 The v1.08 version of this item was outrageously overpowered, thanks to the gigantic +40% maximum hit points, a bonus that was removed in v1.09. The full stats:
+2 to All Skills
+40% Maximum Life
+1.25 Mana per Clvl
+50% Better Chance Of Getting Magical Items
+100% Enhanced Defense
Indestructible
In Diablo 1
[
edit
]
Image
Name
Properties

Harlequin Crest
Cap

+2 all Attributes
Armor Class: -3
-1 Damage from Enemies
+7 Hitpoints
+7 Mana
Durability: 15
Requirements: None
Qlvl: N/A
Diablo II Items Items Basics Unique Armor I Unique Armor II Unique Weapons I Unique Weapons II Unique Weapons III Unique Class Items Item Sets Runewords
Maces [e]
Swords

All Unique Maces
Normal, 1H:
• Felloak
• Stoutnail
• Crushflange
• Bloodrise
• The General's Tan Do Li Ga
• Ironstone


Normal, 2H:
• Bonesnap
• Steeldriver


Exceptional, 1H:
• Dark Clan Crusher
• Fleshrender
• Sureshrill Frost
• Moonfall
• Baezil's Vortex
• Earthshaker


Exceptional, 2H:
• Bloodtree Stump
• The Gavel of Pain


Elite, 1H:
• Nord's Tenderizer
• Baranar's Star
• Demon Limb
• Stormlash
• Horizon's Tornado
• Stone Crusher
• Schaefer's Hammer


Elite, 2H:
• Windhammer
• Earth Shifter
• The Cranium Basher


All Unique Swords
Normal, 1H:
• Rixot's Keen
• Blood Crescent
• Skewer of Krintiz
• Gleamscythe
• Griswold's Edge
• Hellplague
• Culwen's Point

Normal, 2H:
• Shadowfang
• Soulflay
• Kinemil's Awl
• Blacktongue
• Ripsaw
• The Patriarch



Exceptional, 1H:
• Bloodletter
• Coldsteel Eye
• Hexfire
• Blade of Ali Baba
• Ginther's Rift
• Headstriker
• Plague Bearer
• The Atlantean

Exceptional, 2H:
• Crainte Vomir
• Bing Sz Wang
• The Vile Husk
• Cloudcrack
• Todesfaelle Flamme
• Swordguard


Elite, 1H:
• Azurewrath
• Bloodmoon
• Djinn Slayer (L)
• Frostwind
• Lightsabre

Elite, 2H:
• Flamebellow
• Doombringer
• The Grandfather

(L): These Uniques can only be found by B.net Realm Ladder characters. They can also be found in single player.