The Jade Tan Do
ADVERTISEMENT
From Diablo Wiki
The Jade Tan Do is a normal Unique Dagger with an item level of 26 and a Character Level requirement of 19.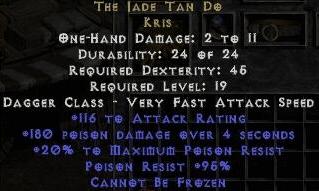 Daggers aren't commonly used in Diablo II owing to their low damage and durability. Shorter and less damaging than swords, they can be used with a shield by any character, and generally have a faster swing speed than the larger, two-handed models, though they also have a surprisingly slow Attack Rate.
There is just one dagger-specific skill in the game, the Necromancer's Poison Dagger, but that's a very underpowered skill in Diablo II, outside of early game or single-player. The skill adds poison damage to his melee attack, but only works with a dagger.
In 1.10 of the Expansion the odds of gambling a Unique is 1 in 2000.
Normal Uniques are identical in Diablo II and the Expansion.
Item Level: Chests and monsters must be at least this level to drop the item. Ilvl is used in gambling, sales and other calculations as well.
v1.09+ Stats
[
edit
]
Image
Name
Properties
Special Properties
Attack Stats

The Jade Tan Do
Kris

2 - 11 Damage
24 Durability
No Str Required
45 Dex Required
Item Level: 26
Clvl Req: 19
+100-150 to Attack Rating
Cannot be Frozen
Adds 180 poison damage Over 4 Seconds
Poison Resist +95%
+20% to Maximum Poison Resist
Range: 1
Weapon Speed: -20
Damage Bonus: 75 Str 75 Dex
Attack Rate:
Very Fast: Am/As/B/D/N/S
Fast: P
Prior Stats
[
edit
]
v1.08: Had Cannot be Frozen, Adds 7-14 poison damage over 3 seconds, +75 to Attack Rating.
Diablo II Items Items Basics Unique Armor I Unique Armor II Unique Weapons I Unique Weapons II Unique Weapons III Unique Class Items Item Sets Runewords
Maces [e]
Swords

All Unique Maces
Normal, 1H:
• Felloak
• Stoutnail
• Crushflange
• Bloodrise
• The General's Tan Do Li Ga
• Ironstone


Normal, 2H:
• Bonesnap
• Steeldriver


Exceptional, 1H:
• Dark Clan Crusher
• Fleshrender
• Sureshrill Frost
• Moonfall
• Baezil's Vortex
• Earthshaker


Exceptional, 2H:
• Bloodtree Stump
• The Gavel of Pain


Elite, 1H:
• Nord's Tenderizer
• Baranar's Star
• Demon Limb
• Stormlash
• Horizon's Tornado
• Stone Crusher
• Schaefer's Hammer


Elite, 2H:
• Windhammer
• Earth Shifter
• The Cranium Basher


All Unique Swords
Normal, 1H:
• Rixot's Keen
• Blood Crescent
• Skewer of Krintiz
• Gleamscythe
• Griswold's Edge
• Hellplague
• Culwen's Point

Normal, 2H:
• Shadowfang
• Soulflay
• Kinemil's Awl
• Blacktongue
• Ripsaw
• The Patriarch



Exceptional, 1H:
• Bloodletter
• Coldsteel Eye
• Hexfire
• Blade of Ali Baba
• Ginther's Rift
• Headstriker
• Plague Bearer
• The Atlantean

Exceptional, 2H:
• Crainte Vomir
• Bing Sz Wang
• The Vile Husk
• Cloudcrack
• Todesfaelle Flamme
• Swordguard


Elite, 1H:
• Azurewrath
• Bloodmoon
• Djinn Slayer (L)
• Frostwind
• Lightsabre

Elite, 2H:
• Flamebellow
• Doombringer
• The Grandfather

(L): These Uniques can only be found by B.net Realm Ladder characters. They can also be found in single player.