Griswold's Edge
ADVERTISEMENT
From Diablo Wiki
Griswold's Edge is a one-handed normal Unique Sword with an item level of 23 and a Character Level requirement of 17.
Of all weapons in Diablo II, swords have the greatest variety in range, damage, Attack Rate, and durability. The basic short sword is barely better than a dagger, while the largest two-handed swords can rival axes and polearms for dealing massive damage, as well as having a long reach and plenty of durability. As he is with all melee weapons, the Barbarian is very skillful with a sword, and has a Sword Mastery skill.
One of the most popular weapons in the game, swords are used by all character types for their fast striking and solid damage. Swords deal consistent damage to all monsters, and can be found in a very large variety. Barbarians tend to prefer the larger range and damage of two-handed swords, which they can wield one-handed. All other characters have to stick to the one-handed swords if they wish to use a shield at the same time.
In 1.10 of the Expansion the odds of gambling a Unique is 1 in 2000.
Normal Uniques are identical in Diablo II and the Expansion.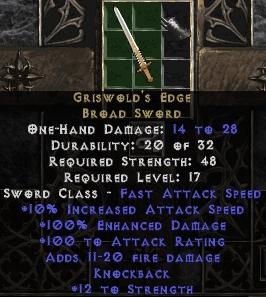 Item Level: Chests and monsters must be at least this level to drop the item. Ilvl is used in gambling, sales and other calculations as well.
v1.09+ Stats
[
edit
]
Image
Name
Properties
Special Properties
Attack Stats

Griswold's Edge
Broad Sword

(12-15) - (25-30) Damage
32 Durability
48 Str Required
No Dex Required
Item Level: 23
Clvl Req: 17
Adds (10-12) - (15-25) Fire Damage
+100 to Attack Rating
10% Increased Attack Speed
Knockback
+80-120% Enhanced Damage
+12 to Strength
Range: 1
Weapon Speed: 10
Dmg Bonus: 100 Str
Swing Speed:
Fast: Am/As/B/D/N/P
Normal: S
Prior Stats
[
edit
]
v1.08: Had Adds (8-10)-(12-16) Fire Damage, +40 Attack Rating, +10% Increased Attack Speed, Knockback, +70-80% Enhanced Damage.
In Diablo 1
[
edit
]
Image
Name
Properties

Griswold's Edge
Broad Sword

Damage: 4-12
+1-10 Fire Damage
+25% Chance to Hit
Fast Attack
Knocks Target Back
+20 Mana
-20 Hit Points
Durability: 50
Requirements: 40 strength
Qlvl: N/A
Diablo II Items Items Basics Unique Armor I Unique Armor II Unique Weapons I Unique Weapons II Unique Weapons III Unique Class Items Item Sets Runewords
Maces [e]
Swords

All Unique Maces
Normal, 1H:
• Felloak
• Stoutnail
• Crushflange
• Bloodrise
• The General's Tan Do Li Ga
• Ironstone


Normal, 2H:
• Bonesnap
• Steeldriver


Exceptional, 1H:
• Dark Clan Crusher
• Fleshrender
• Sureshrill Frost
• Moonfall
• Baezil's Vortex
• Earthshaker


Exceptional, 2H:
• Bloodtree Stump
• The Gavel of Pain


Elite, 1H:
• Nord's Tenderizer
• Baranar's Star
• Demon Limb
• Stormlash
• Horizon's Tornado
• Stone Crusher
• Schaefer's Hammer


Elite, 2H:
• Windhammer
• Earth Shifter
• The Cranium Basher


All Unique Swords
Normal, 1H:
• Rixot's Keen
• Blood Crescent
• Skewer of Krintiz
• Gleamscythe
• Griswold's Edge
• Hellplague
• Culwen's Point

Normal, 2H:
• Shadowfang
• Soulflay
• Kinemil's Awl
• Blacktongue
• Ripsaw
• The Patriarch



Exceptional, 1H:
• Bloodletter
• Coldsteel Eye
• Hexfire
• Blade of Ali Baba
• Ginther's Rift
• Headstriker
• Plague Bearer
• The Atlantean

Exceptional, 2H:
• Crainte Vomir
• Bing Sz Wang
• The Vile Husk
• Cloudcrack
• Todesfaelle Flamme
• Swordguard


Elite, 1H:
• Azurewrath
• Bloodmoon
• Djinn Slayer (L)
• Frostwind
• Lightsabre

Elite, 2H:
• Flamebellow
• Doombringer
• The Grandfather

(L): These Uniques can only be found by B.net Realm Ladder characters. They can also be found in single player.