Frenzy
ADVERTISEMENT
From Diablo Wiki

Required Level:
24
Prerequisites: Bash, Double Swing, Double Throw
Details: Frenzy allows the Barbarian to strike and move much faster, with any skill. Use Frenzy to speed up, then switch to other skills for a hyperfast attack.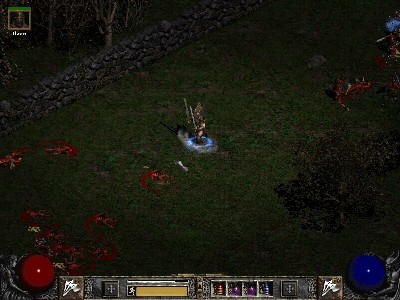 Frenzy requires dual weapons to use.
Frenzy powers up, getting faster and faster for several hits.
There is no visual indicator of Frenzy; no swirling lights or color changes, though swings create a sort of slashing graphic through the air.
The Barbarian moves at a frenzied pace for 6 seconds after the last successful Frenzy hit. Land another hit with Frenzy before the 6 seconds run out, and refresh the Frenzy for another 6 seconds.
The bonus damage from Frenzy only applies to hits using the Frenzy skill itself. The speed transfers to other skills, but not the damage bonus.
Try Leap Attack while Frenzied for laughs.
Synergies:
Receives Bonuses From:
Provides Bonuses To: None
Lore: Although a Barbarian is capable of calculated blows and tactical fighting techniques, it is his fierce passion for battle that distinguishes him in battle. While using this skill, a Barbarian drives more and more force into each successive blow as his anger and bloodlust mounts.
| Slvl | Dmg. +X% | AR +X% | Attack Speed +X% | Walk Run Speed +X% | Slvl | Dmg. +X% | AR +X% | Attack Speed +X% | Walk Run Speed +X% | Slvl | Dmg. +X% | AR +X% | Attack Speed +X% | Walk Run Speed +X% | Slvl | Dmg. +X% | AR +X% | Attack Speed +X% | Walk Run Speed +X% |
| --- | --- | --- | --- | --- | --- | --- | --- | --- | --- | --- | --- | --- | --- | --- | --- | --- | --- | --- | --- |
| 1 | 90% | 100% | 7% | 47% | 6 | 115% | 135% | 7-27% | 47-119% | 11 | 140% | 170% | 7-35% | 47-147% | 16 | 165% | 205% | 7-40% | 47-164% |
| 2 | 95% | 107% | 7-13% | 47-68% | 7 | 120% | 142% | 7-29% | 47-126% | 12 | 145% | 177% | 7-36% | 47-151% | 17 | 170% | 212% | 7-40% | 47-165% |
| 3 | 100% | 114% | 7-18% | 47-84% | 8 | 125% | 149% | 7-31% | 47-131% | 13 | 150% | 184% | 7-37% | 47-155% | 18 | 175% | 219% | 7-41% | 47-167% |
| 4 | 105% | 121% | 7-22% | 47-99% | 9 | 130% | 156% | 7-33% | 47-138% | 14 | 155% | 191% | 7-38% | 47-158% | 19 | 180% | 226% | 7-41% | 47-169% |
| 5 | 110% | 128% | 7-25% | 47-110% | 10 | 135% | 163% | 7-34% | 47-142% | 15 | 160% | 198% | 7-39% | 47-160% | 20 | 185% | 233% | 7-42% | 47-171% |
Classes of the Diablo games - Skills [e] Diablo II: Amazon Barb Necro Paladin Sorceress

 

LoD: Assassin Druid

 

Other: Diablo I Diablo III